For more than 30 years, AMLOR has always looking for a continuous improvement. Obtaining, in 2012, the ISO 9001 certification and, in 2014, the EN1090-1 and EN 3834-2 certifications, demonstrate this quest of quality.
-> QUALITY POLICY AND MANAGEMENT COMMITMENT
Each project is followed by a project manager who becomes your main interlocutor until the delivery or the one-site installation. Their technical expertise allows them to make the best offers corresponding to you demands and allows them to work with you in a close cooperation.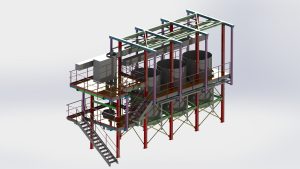 According to your request, the design department operators will build upon their expertise for the design stage. They will be present during onsite measurements. Their proficiency with Tekla Structures, Autocad, Inventor and Solidworks softwares allows to AMLOR to be flexible and compatible with our customers softwares.
Quality Control and Security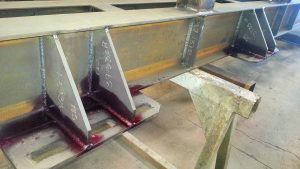 Our know-how and our Quality Control department allow us to realize carefully CE, EN 1090-2 and EN ISO 3834-2 certified structures; allow us to maintain traceability of material and welding.
Since June 2012, our company is certified ISO 9001-2008, this international standard organize and define our quality management system. This allows us to continuously improve the customers' satisfaction and provide products corresponding to their requirements.
Since February 2015 our company is certified EN 1090-1 exc2 and ISO 3834.
This European standard allows us to ensure and manage the EC certificate of conformity in application to the European Union regulation of construction products #305/2011. AMLOR is certified EXC2 and has an IWS and a COFREND II (penetrant testing) in his staff.
In addition, the international standard ISO 3834 allows us to meet customer's requirements for welding control.
AMLOR is committed in security procedure following OHSAS 18001 model to organize and define our safety and health management system. We created the position of Health, Safety, Environnement and Quality manager with someone witch benefited of an AFNOR Training (french national organization for standardization). We realize a follow-up of the trainings (OSH, forklift truck and boom lift operator, licenses for working at heights, fire safety, etc.)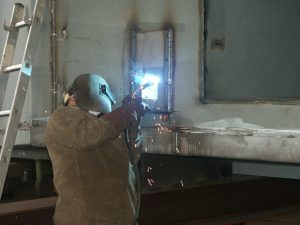 Our production staff is composed of qualified EN and ASME pipefitters, welder-assemblers and welders. Self-checkings are realized repeatedly throughout the manufacturing process.
Our buildings, covering an approximate area of 5000m², equipping with 15 overhead cranes of various capacities, offers possibilities of realization of very large products.
Our workshop is equipped with machines that allow us to realize shearing, drilling, punching, plasma cutting and oxycutting, folding, roll-forming and sawing. One more, in 2016 we invested in 2 CNC bandsaws and a CNC drilling machine to increase our production capacities.
Our worksite leader will do their utmost to adapt their way to work to your requirements and site installations: OSH, forklift truck and boom lift operator, licenses for working at heights, for scaffold installation, for chemical safety, fire safety, for airport safety, etc.
he AMLOR company has integrated in 2017 the EURODIME group composed of 4 Structures:
EURODIME Industries (88460 Docelles)
EUREKA Technologies (88100 Sainte Marguerite)
Modelage Mécanique Britsch [MMB] (88380 Arches)
CODEMA Industries (67100 Strasbourg)
This integration allows us to expand our areas of competence.